Current Term
November 2022 – November 2026
Officer Position
President
---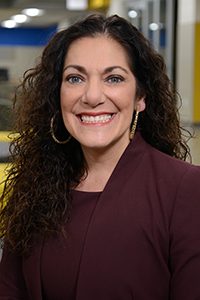 Bio
Dr. Gloria Gonzales-Dholakia is the proud mother of three LISD students. She was elected to the Board in November 2018. She previously served as the Vice President of the Board. She has a Bachelor's degree in biology, a master's degree, and a doctorate degree in education. Gonzales-Dholakia had a successful career in the educational technology sector and taught as a college professor. She served as the executive director of the Leander ISD Educational Excellence Foundation and is an active volunteer for her sons' schools and robotics programs, for their schools' campus committees and PTAs, and for the LISD Council of PTAs. Gonzales-Dholakia is active in other local community and service organizations, including the Leander Chamber of Commerce, the Cedar Park Chamber of Commerce, the West Austin Chamber of Commerce, and several Four Points area associations.
She attributes her success to her humble beginnings in San Antonio as a young girl from a hard-working family with little to no resources, and to the committed teachers and mentors who came alongside her. They taught her that a higher education was possible, and more importantly, inspired her to attain it. She is living the American dream thanks to the support of her family and educators. She now wants to give back to other students and families and help provide them with more opportunities. Gonzales-Dholakia believes in giving parents and teachers a stronger voice in district decisions to make improvements. She is a passionate advocate for public education and has a servant leader's heart.
Gonzales-Dholakia and her husband, Neil, have lived in LISD for 16 years with their three sons.
Send email to Gonzales-Dholakia at [email protected].
To communicate with the entire board, email [email protected].