Home Access Center (HAC) provides families with an online tool where they can view helpful student information to support and guide their children through the educational process. From home or work, at any time of the day or night, parents can access the web portal to track academic achievement.
Features include:
Grade notifications
Class schedules
Attendance records
Account Creation
Leander ISD will generate and send Home Access Account information for Parent / Guardian 1 and 2 on the student's record.
If additional parents/ guardians need access, please contact your campus registrar.
If your forgot your username / password, please try the password reset functionality on the HAC website or contact your campus registrar.
Home Access Center Version 3.1 requires Internet Explorer Version 9, 10 or 11, Chrome, Firefox or Safari browsers. Internet Explorer Version 8 is no longer supported.
If you are having difficulty with the website once you are logged into Home Access Center, you may need to clear your cache.
Home Access Center (HAC) Guide
Home Access Center (HAC) is a browser-based student information system that allows you to view student grades, attendance and scheduling information as it is entered in the school district's database.
Parents / Guardians and Students can use Home Access Center to view student information.
Home Access Center Menu
The menu options in the Home Access Center banner provide access to HAC's main pages. Clicking an icon displays a page with related tabs, each of which is a self-contained page of information on your student. For example, the Grades option displays a page with tabs on Interim Progress Reports (IPR), Report Cards, and other subjects associated with grading. Clicking a tab displays the page indicated. Most HAC pages also include links that when clicked, display a window with additional details. The following pages can be accessed using the menu options in the HAC banner.
Home
Week View – Displays a student's attendance, scheduling, and grades for the current week. Previous and future weeks can also be displayed. Links are provided for viewing details on individual courses, accessing student fee information, and emailing teachers.
Calendar – Displays a month-view of the student's attendance, scheduling, and grades. Checkboxes are provided for configuring the type of information that displays, while buttons are included for changing the calendar to a daily or week view. Previous and future months can also be displayed.
Attendance
Month View – Displays a month-view of the student's attendance that can be toggled to access all months within the current school year. A color legend identifies the type of attendance displayed. Place the mouse pointer over a day to view more detailed information on absences and tardies.
Classwork
Classes – Displays course assignments, including the dates assigned, due dates, categories, potential points, and scores for the Gradebook assignments available in a class. When assignments are ordered by class, class average information is shown below the student's list of assignments. Teachers can select whether an assignment and its score should be published for HAC. However, unpublished assignments may be included in the student's averages for a course. Most LISD Teachers use Google Classroom, so the Classwork feature may not be utilized fully at this time.
Schedule – Displays the student's schedule for the entire year. Dropped courses may also be displayed. You can also select to display the list of requests for the next school year in a separate section at the bottom of the page. Links are provided for viewing detailed course information and sending emails to teachers.
Grades
Interim Progress Report – Displays the student's most recent interim progress report, including courses, marks, and comments for an Interim Progress Report (IPR) run based on information in the IPR data warehouse. If comments were entered for the student, a comment legend displays below the course information. In addition, you can select to view any previous IPR run for the current year for which the data warehouse is available.
Report Cards – Displays information from the student's most recent report card run. The page lists marks, comments, and absences related to the student's courses or competencies.
Test Scores – Displays all standardized test scores stored for the student in the eSchoolPLUS Test Center.
Registration
Demographic – Displays the student's basic demographic information.
User Options
My Alerts – Allows guardians and students to subscribe to alerts for sending emails on grades.
My Account – Allows guardians and students to change their HAC passwords and modify the challenge questions that are asked when users forget their passwords.
Logoff – Closes the current HAC session, and returns you to the Log On page.
Change Student – Allows guardians who have two or more students to display a pop-up window for selecting another student.
Updating Parent Contact Info in HAC
Step 1. Log onto HAC
2. Click on the Registration Icon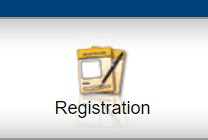 3. On the "Contacts" bar, select the Edit button
4. Modify your phone numbers and your email address and then click the "Save" button
5. Please do not update the student email address. This is set by LISD. If you make changes to the student email address it will be revert to the district assigned email address each morning.
Mobile App: "eSchoolPLUS Family" Available Now
Check out the mobile Home Access Center app – eSchoolPLUS Family – for an optimized viewing experience on your mobile device! The eSchoolPLUS Family app displays most of the same information as HAC on the web, but in a mobile-friendly format.
To download to your Apple, Android, or Kindle mobile device, search your app store for "eSchoolPLUS Family" or click one of the following links: iOS (Apple)| Android | Kindle
The first time you open the app, you will be asked for your district. Search for and select Leander ISD. Then use the same login and password that you use for Home Access Center to access your records.
If you are using the mobile application and are interested in looking at detailed grade information, please make sure you are looking under the Classwork icon. Once in the Classwork area, you will need to scroll left and right by week to see specific grade details. Also, please remember that teachers have the ability in the grade book to weigh assignments differently depending on the assignment category and tasks. This information is not easily seen on the mobile application, but is available through the Home Access Center website.
Digital Report Card Information
Leander ISD has transitioned to online report cards and progress reports, which can be accessed (viewed and printed) by students and parents through the Home Access Center tool.
If you have not yet logged into your Home Access Center account, please do so prior to the release of report cards to ensure the system has all of your students.
While LISD is working quickly to address customer service requests, please allow 3 business days for resolution of your issue. If you are unable to access Home Access Center and your family needs a printed report card, please contact your campus registrar.
Grade Book Alerts
eSchoolPLUS triggers grade alerts off the due date of the assignment, not the grade itself. If a teacher enters a grade within two days of the due date, a corresponding grade alert is sent to parents. If a grade is entered beyond the due date, an alert would not be sent. Leander ISD does not feel the current configuration of eSchoolPLUS alerts works well for our teachers or our families, and we have requested a product enhancement for changes.
PreK-5 Report Card Key
PreK Only:
1 – Focus / Prepárese
Your child does not demonstrate the current nine-weeks expectation. This may be attributed to a lack of exposure or limited understanding; extra support is needed.
Su niño(a) no demuestra las expectativas para el actual ciclo de nueve semanas. Esto puede atribuirse a falta de exposición o comprensión limitada; necesita apoyo adicional.
2 – Get Ready / Preparado
Your child can perform the outcome with intensive, one-on-one teacher assistance and support from peers. Your child is ready for practice and instruction.
Su niño(a) puede desempeñar la tarea con asistencia del profesor(a) y apoyo de compañeros. Su niño(a) está listo para la instrucción y práctica.
3 – Set / Listo
Your child demonstrates the outcome independently with only occasional, minor support from the teacher. The expectation is set and ready for application.
Su niño(a) demuestra un desempeño consistente e independiente. Conoce la expectativa y la puede aplicar.
4 – Go / Ya
Your child goes beyond the targeted nine-weeks expectation and can begin working toward the end-of-year expectation.
Su niño(a) va más allá de las expectativas diseñadas para el ciclo de nueve semanas, y puede comenzar a trabajar hacia la expectativa de final de año.
K-5 Only
M = Mastery/Dominó la destreza
S = Satisfactory/Satisfactorio
D = Developing/En desarrollo, aún no ha dominado la destreza
NI = Needs Improvement/Necesita mejorar

A = On/Above Level / A nivel/por encima
B = Below Level/Por debajo
P = PACE (2nd-5th)
C = Approaching the Zone of Biliteracy / Aproximándose a la Zona de Bialfabetismo
Z = In the Zone of Biliteracy/En la Zona de Bialfabetismo

T1 = On Track/Desempeño a nivel de grado
T2 = At Some Risk/a cierto riesgo
T3 = At Risk/Desempeño por debajo nivel de grado

Comment Codes/Códigos de comentarios
1: Satisfactory Effort / El esfuerzo se satisfactorio
2: Effort Needs Improvement / El esfuerzo necesita mejorar
3: Follows expectations and takes responsibility for own actions / Sigue las expectativas y asume la responsabilidad de sus propias acciones.
4: Improvement needed in following expectations and taking responsibility for own actions / Mejora necesaria para seguir las expectativas y asumir la responsabilidad de sus propias acciones
5: Participates appropriately in partner and group activities / Participa apropiadamente en actividades de grupo
6: Improvement needed in participating appropriately in partner/group activities / Mejora necesaria para participar adecuadamente en las actividades de grupo
7: Works well independently / Trabaja independientemente
8: Improvement needed in working independently / Mejora necesaria para trabajar independientemente
9: Completes work and stays on task / Completa el trabajo y se mantiene enfocado
10: Improvement needed in staying on task and completing work / Mejora necesaria para completar su trabajo y mantenerse enfocado
11: Respects adults, peers, and school property / Respeta a los adultos, compañeros y propiedad escolar
12: Improvement needed in demonstrating respect for adults, peers, and/or school property / Mejora necesaria para demostrar respeto por adultos, compañeros y/o propiedad escolar
13: Organizes self/materials / Organiza materiales, sus pertenencias y a sí mismo
14: Improvement needed in organizing self/materials / Mejora necesaria en la organización de materiales, sus pertenencias y a sí mismo
15: Strives for quality work / Se esfuerza para realizar un trabajo de calidad
16: Improvement needed in work quality / Mejora necesaria en la calidad del trabajo
17: Conference Requested / Conferencia solicitada
Additional Information
Security
Parents/guardians and students have a responsibility to ensure that the username and password that is provided for accessing the Home Access Center is kept secure at all times. Students should not share their username or password with other students. If a student or parent/guardian believes that their password may have been compromised, the student or parent/guardian is responsible for changing their password. Changing a password can be done online by clicking on "My Profile" in the Home Access Center.
---
Stay Connected with Remind
Leander ISD updated its messaging system to give families more flexibility in setting their contact preferences and view all district, campus, and teacher communications for each of their students in one convenient place. Visit the Remind page to learn more.