Current Term
November 2022 – November 2024
---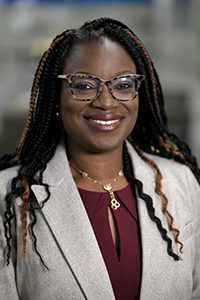 Bio
Sade Fashokun has lived in Cedar Park since 2014 with her husband and two kids who attend Cedar Park Middle School. She began volunteering in Leander ISD schools shortly after moving to the area and has been an active volunteer in the community. In Leander ISD, Fashokun was a Literacy Partner, mentor, tutor, PTA Treasurer, and PTA President. She served on the district's School Health Advisory Committee (SHAC) and Bond Oversight Committee. Fashokun also volunteered on the Cedar Park Economic Development (Type A) Board and the Bond Advisory Task Force.
Fashokun earned a Bachelor of Science in Computer Science from the University of Lagos, a Master of Business Administration from Carnegie Mellon University, and a Juris Doctor from the Seattle University School of Law. She is a member of the Washington State Bar Association. Fashokun worked at Microsoft Corporation for more than 20 years and is now a small business owner of an insurance agency.
Fashokun is a lifelong learner and is passionate about every student and educator having the tools and environment to learn, grow, and be successful.
Send email to Fashokun at [email protected].
To communicate with the entire board, email [email protected].