Return to Play Protocol
Leander ISD coaches and trainers prioritize safety above competition. This article details our protocols for student athletes experiencing a concussion.
Step 1
Contact your high school athletic trainer. Set up an appointment to be evaluated and to review the protocols.
If you have been to the emergency room or doctor already, please bring that paperwork. Doctors' notes will not supersede state law governing concussion protocols.
For middle school students, please contact your school nurse or head coach to connect you with the correct high school athletic trainer.
Step 2
Meet with the Athletic Trainer to discuss appropriate action and to set-up any additional testing necessary.
Step 3
The athlete must meeting four criteria before starting the Return to Play Protocol (6-Day Return to Play)
Must be completely asymptomatic (See Daily Symptom Checklist – 24 hours)
Testing must return to baseline/normal range
Must be released in writing by the treating physician before starting the Return to Play Protocol
Step 4
Once the 4 Criteria are met the athlete will begin the Return to Play Protocol (6 Day Return to Play). Example of workout:
Day 1 – 24 hours of no symptoms
Day 2 – Light aerobic exercise (ex: stationary bike for 20-25 min)
Day 3 – Moderate aerobic exercise (ex: running 1 mile)
Day 4 – Sport Specific non-contact exercise (ex: sprints, push-ups, or sport-specific drills)
Day 5 – Full Contact Practice
Day 6 – Full Release to Activity
* Each step must be 24 hours with no return of symptoms. The athlete will complete the Daily Symptom Checklist during the Return to Play protocol (6-Day Return to Play)
Step 5
On Day 6 of the 6-Day Return to Play, the athlete will have all of the following on file with the Athletic Trainer of the High School for which the athlete is zoned.
---
State Law – HB 2038 (Natasha's Law)
In Summer 2011, a new law was passed that mandates how concussions for UIL-sanctioned sports are managed.
---
Notes for Parents & Guardians
While the athlete is recovering and still having symptoms it is important to limit not only physical activity but mental activity. Cognitive Rest is the cornerstone to concussion recovery. The following activities should be avoided early on following a concussion.
Don't
Television (Especially violent or action movies)
Video Games
Ipods
Texting
Computers
Large crowds
Bright Lights
Academics (The treating physician will guide the athlete in this area)
Do
Plenty of rest
Stay well hydrated
Eat a well-balanced diet (High Carbohydrate diet)
Take medication as prescribed by the doctor
Follow Physician/Athletic Trainer instructions
---
Understanding Concussions
Links & External Resources
Forms
All of the following four documents must be on file with the athlete's zoned high school athletic trainer prior to returning to sports. Theses forms can be downloaded at the bottom of this page.
What is a concussion?
A concussion is a brain injury and is defined as a complex pathophysiological process affecting the brain, induced by biomechanical forces. Several common features that incorporate clinical, pathologic and biomechanical injury constructs that may be utilized in defining the nature of a concussive head injury include:
Concussion may be caused either by a direct blow to the head, face, neck or elsewhere on the body with an ''impulsive' force transmitted to the head. Forces that cause the head to shake/move violently (Does not have to be head contact!)
Concussion typically results in the rapid onset of short-lived impairment of neurological function that resolves spontaneously. However, in some cases, symptoms and signs may evolve over a number of minutes to hours.
Concussion may result in neuropathological changes, but the acute clinical symptoms largely reflect a functional disturbance rather than a structural injury and, as such, no abnormality is seen on standard structural neuroimaging studies. This means that CT Scans & MRIs will typically be negative since they look at actual brain structural damage. Concussions are brain FUNCTIONAL issues!
Concussion results in a graded set of clinical symptoms that may or may not involve loss of consciousness. Resolution of the clinical and cognitive symptoms typically follows a sequential course. However, it is important to note that in some cases symptoms may be prolonged. Although a large percentage of concussions heal in about 2 weeks every concussion is different in terms of symptoms experienced, symptom severity and recovery time.
Consensus Statement on Concussion in Sport—the 4th International Conference on Concussion in Sport Held in Zurich, November 2012.
---
Common Symptoms of a Concussion
Physical
Headache
Nausea
Vomiting
Balance problems
Dizziness
Visual problems
Fatigue
Sensitivity to light
Sensitivity to noise
Numbness or tingling
Dazed or stunned
Cognitive
Feeling mentally "foggy"
Felling slowed down
Difficulty concentrating
Difficulty remembering
Forgetful of recent information or conversations
Confused about recent events
Answers questions slowly
Repeats questions
Emotional
Irritability
Sadness
More emotional
Nervousness
Sleep
Drowsiness
Sleeping less than usual
Sleeping more than usual
Trouble falling asleep
Common myths associated with concussions
Concussion Testing
Athletic Trainers use various testing methods when assessing a concussion. Below is a list of various methods that may be used to assess a concussed athlete. Most concussion assessment tools are more effective with baseline tests but same may be used for serial testing to see changes in performance (positive or negative). Each campus uses a different testing method based on athlete age, gender, sport and time of the year.
ImPACT (Immediate Post-Concussion Assessment and Cognitive Testing)
ImPACT is a computer based neurocognitive tool used in conjunction with the medical exam to assess concussion recovery. This is the most widely utilized cognitive testing tool used in LISD.
The ImPACT Test is a fundamental element of ImPACT's overall approach to concussion management. Here are important facts about the ImPACT Test:
The ImPACT Test is:
One important piece of the overall concussion evaluation and management process.
A sophisticated test of cognitive abilities.
The most scientifically researched concussion management tool.
A tool that can help health care professionals track recovery of cognitive processes following concussion.
A tool to help communicate post-concussion status to athletes, coaches, parents, clinicians.
A tool that helps health care professionals and educators make decisions about academic needs following concussion.
The ImPACT Test is not:
A "panacea" or cure-all for concussion, as there is no such thing. As long as contact to the head occurs, concussion will continue to happen.
A tool to diagnose concussion, which should always be diagnosed by a qualified health care provider.
A substitute for medical evaluation and treatment.
Concussion Clinical Trajectories
How do we look at Concussions? If you go to the doctor for a knee injury and describe "knee pain", you realize that does not fully inform you about the knee condition. "Knee pain" can mean a lot of different things and this is the way we should start looking at concussions. University of Pittsburgh Medical Center, one of the nation's leaders in concussion research and treatment, has put together an informational page describing the different Clinical Trajectories for concussions. We can go from a "Sit and Wait" model of concussion management to a "Treat and Rehab" method. With proper assessment of concussion, we can begin a treatment/rehab toward recovery and target the needs of a concussed athlete.
There are 6 clinical trajectories for concussion as described below. A concussed athlete may exhibit signs in one or multiple concussion clinical trajectories. Once the main trajectories are identified then treatment/rehab can be more specific and targeted to that domain.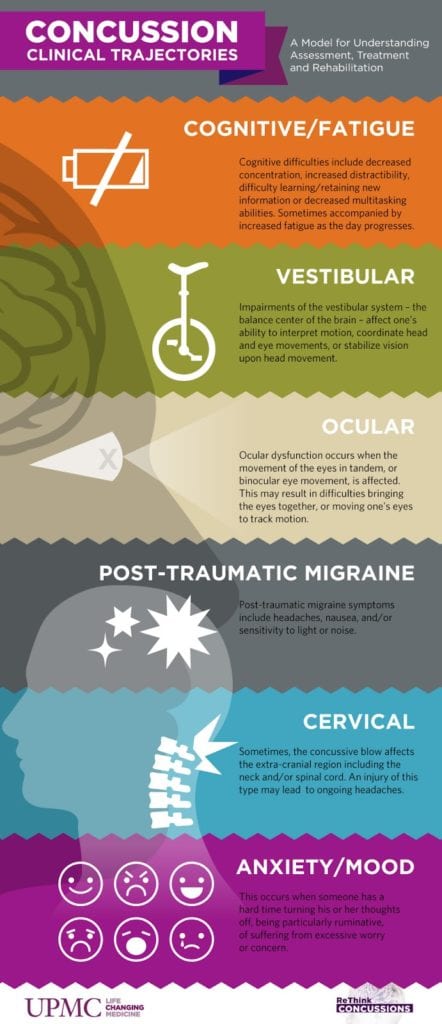 Vestibular
Ocular
Migraine
Anxiety/Mood
Concussion & Academics
During the course of an athlete's recovery, there may be some limitations in the classroom. Each individual will have different responses to their concussion and therefore the academic modifications will be on a case by case basis. The course of treatment can be as wide-ranging from No School to Mild Academic Modifications. Below is a link from the Children's Hospital of Chicago – Institute of Sports Medicine with an excellent Return to Academics informational guide to better explain what this process would look like.
Return to Learn (Academics) Following Concussion
Following a concussion there will be a concentrated effort between the treating physician, athletic trainer, counselors and teachers to provide an ample opportunity to allow the athlete to return to academics in a timely and appropriate manner.
Please use the Return to Learn-Concussion Care Plan for Academics form that will taken to each doctor appointment during the concussion recovery process.
Concussion Information for Non-Athletes
Concussions that occur for non-athletes are very similar to those in sports. The most important step is to recognize that a concussion has occurred (See the Signs & Symptoms section). If you suspect that your child has received a concussion contact a medical professional immediately, preferably one that has a background in concussion management. If symptoms are severe and do not improve then take to the nearest medical facility (Emergency Room) for evaluation.
The LISD school nurses use the CDC Heads Up Program Checklist (See Link) in the event of a possible head injury. The student is assessed when they enter the clinic and again at 15 minutes. The parent/guardian is notified. If the student continues to show symptoms at the 30-minute mark then generally they are sent home.
The school nurses will recommend that the parents seek a physician evaluation before returning to school. If the parents elect to follow-up with a doctor then they return with a diagnosis of a concussion then the school will follow the physician's orders. If there are no specific orders then nurses will follow standard return to play protocols (similar to the program athletics use).
Concussion Oversight Team
LISD uses scientific peer-reviewed evidence to establish the Return to Play protocol.
Consensus Statement of Concussion
The LISD Concussion Oversight Team (COT) is made up of local physicians and all of the LISD Athletic Trainers – If a school district or open-enrollment charter school employs an athletic trainer, the athletic trainer must be a member of the district or charter school concussion oversight team. Each member of the concussion oversight team must have had training in the evaluation, treatment, and oversight of concussions at the time of appointment or approval as a member of the team. All members participate in annual concussion training to stay abreast of current concussion information.
Concussion Oversight Team Physicians
Athletic Trainers
---
Frequently Asked Questions
Does my child need to see a doctor if they have a suspected concussion?
Yes, state law (HB 2038 – Natasha's Law) requires that an athlete with a suspected concussion be seen by a doctor. The number of visits will be dependent on the treating physician and the athlete's recovery.
Can I go to my family doctor to get clearance for a concussion?
Yes, however, we highly recommend that athletes be seen by physicians with concussion management experience. Ask your Athletic Trainer about local physicians that specialize in this area.
Can a chiropractor clear my child for a concussion?
No, chiropractors do not meet the Texas State Occupational code that is required in HB 2038 – Natasha's Law.

Can a note from an Emergency Room Physician clear an athlete for the Return to Play Protocol?
No, emergency room physicians cannot clear an athlete for return to play. In most cases where an athlete is at the emergency room for a concussion, it is soon after the initial injury and they are trying to rule out a more serious condition (subdural hematoma or intracranial bleed). The emergency room physician will require a follow-up with the primary care physician.
If my doctor clears my child to return to play is that all that is required for them to go back to athletics?
No, HB 2038 – Natasha's Law requires that a concussed athlete must complete the School District Return to Play protocol. Recent changes to the law allow a chiropractor to rule a kid out for a concussion on the sideline but they still cannot release an athlete back to play.
Who decides what is in the District Return to Play protocol?
The Return to Play Protocol is developed by a Concussion Oversight Committee (Made up of local physicians and the high school athletic trainers) based on current scientific peer-reviewed concussion studies.
Does my child have to see one of the COT (Concussion Oversight Team) doctors following a concussion?
No, although these doctors are excellent at dealing with sport-related concussions the primary role of the COT is to help establish a written district Return to Play Protocol in conjunction with the LISD Athletic Trainers.
If my child receives a concussion outside of school (Non-school related function: i.e. – club sports, horseplay, accident, etc.) do they still need to complete the Return to Play protocol?
Yes, if your child wishes to participate in any UIL related sponsored sport then they must complete the LISD Return to Play Protocol. This includes concussions suffered in the off-season or summer.

Can I sign a waiver (limiting liability to the school) that allows my child to return to play without having to see the Dr. or complete the Return to Play Protocol?
No, concussions are one of the few injuries that have a specific state law governing UIL sports and the process for returning to activity.